Introduction
Our 1st Prague trip was my wife's 1st real international trip, ever, and my first European trip in over 2 decades. The dates for our trip were September 19th through the 29th, originally we planned on the 21st through the 28th, but that got changed by the Airlines.
Since the change was within 2 weeks of our arrival, changing the hotel reservations would have been expensive. I had some free nights at Marriott, so I booked us in to the Courtyard Prague City for 2 nights then to Prague 1 to the Hilton Old City as originally planned, and the last night at the Courtyard at the airport. Traveling towards the end of the pandemic had some challenges, cancelled flights causing rebooking, but it was worth it.
Day 1
Our original plan was to fly Delta to Prague, but Delta let me down several ways, long story. We ended up on British Airlines, for a much better price, and much better service than Delta.
The flight from Dulles was uneventful, except that as usual Heathrow was a total cluster. If you are flying through Heathrow, try to avoid the terminal 5 to 3 transfers, mister toads wild ride comes to mind when I think of that bus ride. We were required to wear a mask and stay in our seats through the entire flight. Ironically, once we landed at Heathrow we were unloaded 3 rows at a time to maintain social distancing, but those rules changed when we were all crammed on buses to the terminal shoulder to shoulder. The cattle car mentality continued through the terminal, and through security, and the bus to terminal 3 etc. The hypocrisy of Heathrow was laughable.
The flight to Prague was uneventful, customs was mostly painless, baggage claim was quick, and the maskless fresh air after baggage claim was wonderful. A quick stop at the PID kiosk for transit passes, we were ready for our first Czech adventure, riding public transit from Václav Havel Airport to the hotel. The trip from the airport to the Courtyard Marriott Prague City in Prague 3, took a little over an hour and about a 2 block walk, taking an Uber would have taken about 25 minutes but where is the fun in that.
Flora or Prague 3
We got settled in at the Courtyard, and put our feet up for an hour or so and decided to do a little exploring. We had a mall and one of the largest cemeteries in Europe less than a block away, for us, that is a massive bonus. I have a funeral director friend who told me that you can tell a lot about a culture by the way they treat their dead, and from what I have seen, the Czech people treat their dead very well.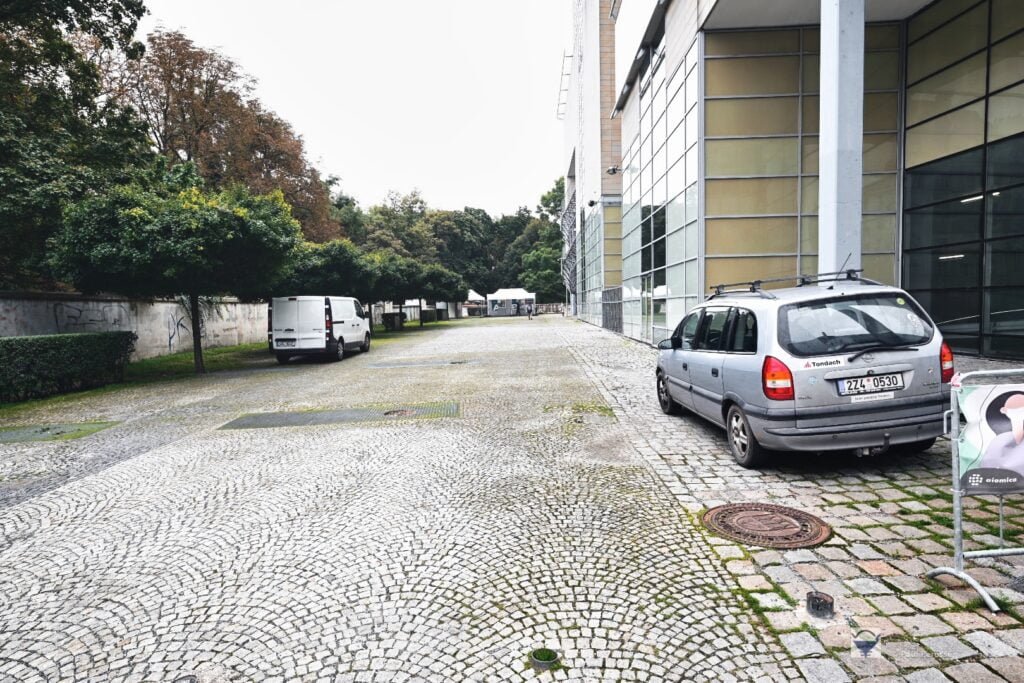 Way back behind the Atrium Flora Mall was this COVID-19 testing center, which we found out were all over the city. The price was about $30 USD, while in the US we had 3 days before paid $180 each for tests, so we could spend 3 hours in Heathrow Airport.
We made a quick trip to the mall Atrium Flora, to pick up sim cards for the phones, as well as some snacks. We wandered around the mall a little, and it was sad to see all the businesses essentially destroyed by the pandemic. Many of the stores were still enforcing mask requirements and the limits on the number of people in the store, even though those restrictions were lifted several weeks before our arrival. We soon found out that the only places still enforcing the rules were those that were part of large risk-adverse corporations, which were not really on our agenda.
We left the mall, and took a quick walk through a small section of the Olšany Cemetery, more to come on that later. Here are some teaser pictures.
Žižkov
A little more wandering, and taking in the sights and sounds of the city, we decided that it would probably be a good time to find a place for dinner. That was harder than it sounds, it was Monday, and many places had not reopened yet, we were not in a main tourist area.
Leaving the cemetery, we were happy to see the Mazačka Tram, I had just put my camera in my backpack, and I was able to get a quick picture, This is a unique vehicle, the only one in the world. In addition to lubricating the tracks, it is also a moving air quality and weather station. Read the whole story at the link above.

Nothing says Žižkov like Žižkov tower. Žižkov tower is a dominant feature of the Prague skyline, some would say more of an eyesore. Love it or hate it, it isn't going anywhere, anytime soon. Coming in at 200+ meters, it is one of the 100 tallest towers in the world.

I think the addition of the babies changed the tower forever.
A typical block of apartments, I don't know if the communists did a study, but six-story apartment buildings are about all you see. Blocks and blocks of beautiful old architecture were destroyed under communism to provide the most efficient housing possible.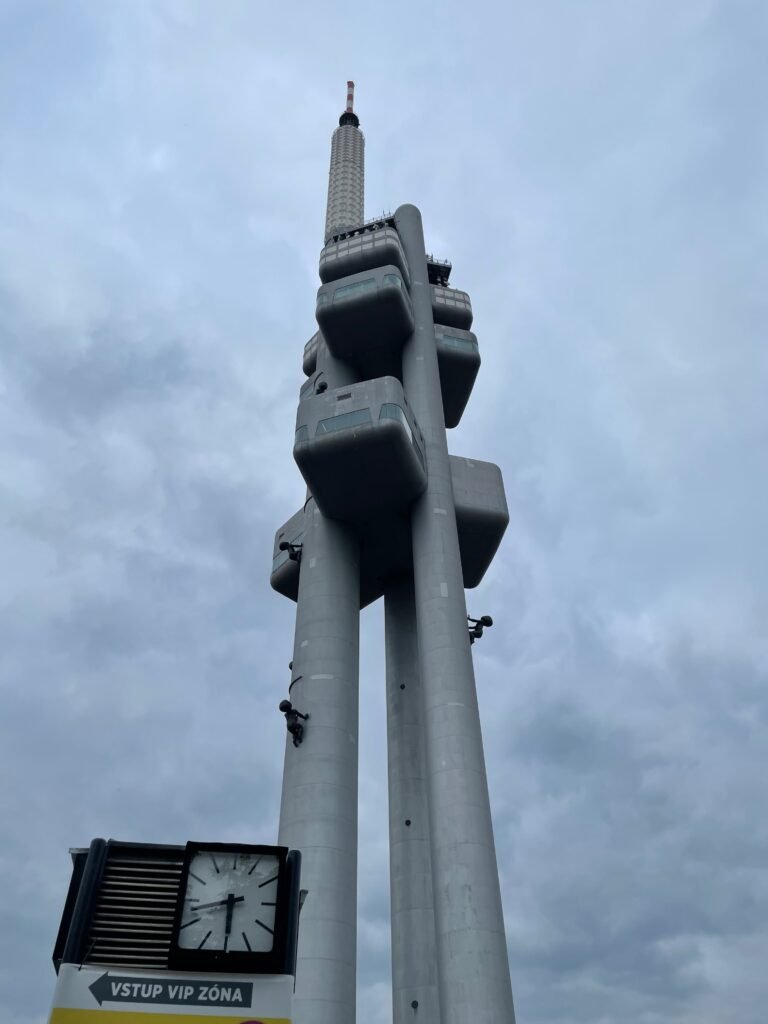 We did eventually find a place to have dinner, not the best place, but it was decent, and they took cards, unlike the 3 other places we stopped at. Travel tip, once you leave Prague 1 or 2, or stop in a small shop, you will find that not all take cards, so ask first.
And yes I did enjoy the national beverage. a liter a day during the trip.
Olšany Cemetery
A preview of the next post.
Olšany Cemetery is huge, I do not know the actual size, but I estimated using Google Maps and came up with about 5,000,000 Square Feet, or 464,515 Square Meters. Most sources agree that there are about 64,000 graves, with estimates of between 200,000 and 300,000 bodies, and that comes to about 4 per grave, give or take. Bad place to be in a zombie apocalypse.
Links
Map